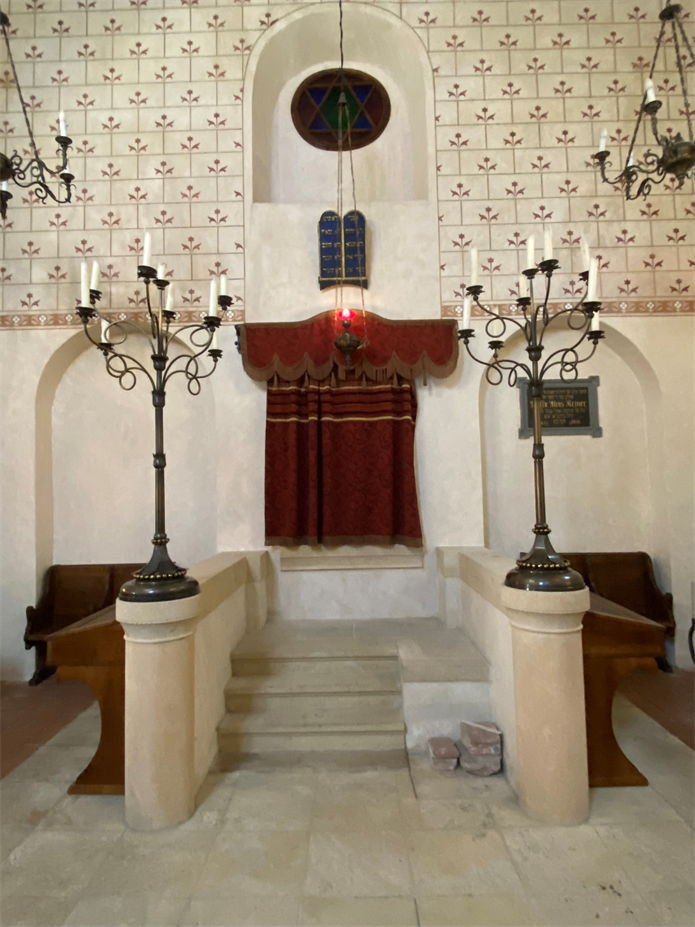 Eastern Wall, Synagogue, Turnov, Czech Republic, 2023
Eastern wall, Synagogue, Turnov, Czech Republic, 2023. The Baroque style Ark of the Law no longer exists. The 19th century wooden-made Tablets of the Law above the Ark of the Law are authentic.
The synagogue is built of stone and was inaugurated in 1719. It replaced two earlier wooden synagogues, the first built in 1631, that were destroyed in fires. Built in a Baroque style, the synagogue of Turnov is assumed to be the oldest extant synagogue in northern Bohemia. Prayers were held in this place until 1941, when the synagogue was closed during the German occupation in WW II.
The building of the synagogue was badly damaged during the Holocaust and later, during the years of the Communist regime in Czechoslovakia. From early 1950s through 2005 the building of the dilapidated synagogue was used as a warehouse. The municipality of Turnov purchased the building in 2005 and during the following years restored it in a project partially funded by the European Union and Norway.
Photo: Haim H. Ghiuzeli
The Oster Visual Documentation Center, ANU - Museum of the Jewish People, courtesy of Haim H. Ghiuzeli, Israel
Image Purchase: For more details about image purchasing
Click here
, make sure you have the photo ID number (as appear above)